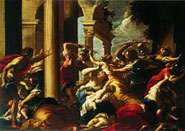 Maurizio Canesso inaugurated his Gallery in 1994, in Paris after 15 years of dealing in Italian Old Master Paintings. You can visit the gallery and see a wide range of works from the Renaissance to the 18th century, principaly Italian artists, but also artists of other schools who worked in Italy. The Gallery offers a considerable choice of subjects from Religious and Mythological to Still life, Landscapes and Veduta and, for the most part, newly discovered and unpublished works.
Particular attention to quality and condition are the main preoccupations of the acquisition policy. Close collaboration with art historians and museums demonstrates the Gallery's interest and success in working with Institutions.
The gallery participates in two fairs : the TEFAF in Maastricht and the Biennale de Paris in the Carrousel du Louvre. We publish two catalogues every year.
Maurizio Canesso will be happy to welcome you at the Gallery to discover the most recent acquisitions (only by appointement) .
Gallery Canesso
8 rue Rossini
75009 Paris
tel: +33 (0)1 40 22 61 71
fax: +33 (0)1 40 22 61 81
Galerie de Jonckheere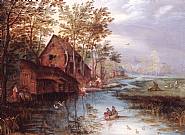 Research, deal, appraisal in old master paintings Landscapes and marines, still life, vedute italian views, Brueghel, portraits and interiors and religious paintings. Paris France
100 - 102 Rue du Faubourg Saint Honoré
Paris, 75008 France
Tel:
+33 1 42 66 69 49
Fax:
+ 33 1 42 66 13 42
Georges DE JONCKHEERE
Galerie Berès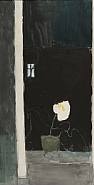 The Galerie Berès, facing the south west wing of the Louvre which stands across the river, was founded by Huguette Berès in 1951 and is now run by Anisabelle Berès, her daughter. Its twin focus has been, from Day One, on the graphic arts from the Far East and the avant-garde movements in 19th century France. Major monographic shows of Japanese print making staged over the years include Utamaro, which travelled from Paris to London in 1980. The catalogue is widely held to be the reference book on the subject. Other exhibitions focused on Hiroshige, Hokusai and Sharaku. The latter, a historical event, included half of Sharakus known oeuvre and was internationally acclaimed. The Galerie Berès introduced the art of Ukiyo-e to a whole generation of West European and North American art lovers. The gallerys other major venue covers avant-garde trends in 19th century France, from the Barbizon school with such luminaries as Corot, Harpignies and Jongkind, which ushered in Impressionism to Post-Impressionist movements. Exhibitions at the Galerie Berès featured Goya, Manet, Marquet, Toulouse-Lautrec, Bonnard, Maurice Denis and Vuillard. Its 1990 theme show, "Au temps des Nabis," which was reviewed by Souren Melikian in the International Herald Tribune won international acclaim. It laid the ground work for the current Grand Palais "Nabi Retrospective" where many of the works exhibited by the Galerie Berès were present. The Galerie Berès participates in prestigious arts fairs around the world: the Paris Biennale, the European Fine Art Fair in Maastricht, the Asian Fine Art Fair and the International Fine Art Fair, both in New York, and the TIAF in Tokyo. 25, Quai Voltaire 75007 Paris, France 35 rue de Beaune 75007 Paris, France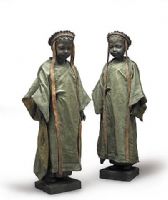 Right in the heart of the St. Germain Des Prés area, between the well-known "Deux Magots" and within walking distance of the Musée d'Orsay, the Jacques De Vos gallery has specialized in the Art Deco period for 30 years. Selling high quality pieces of furniture by Jean-Michel Frank, Alberto and Diego Giacometti, Paul Dupré-Lafon, Pierre Chareau, Jean Dunand, Eugène Printz and André Sornay among the great names of the period, Jacques De Vos is also the world representative for Jean Lambert-Rucki's sculptures.
Once or twice a year, Jacques De Vos organizes a temporal exhibition dedicated to one of these major French Art Deco Designers. Events are often underlined by the publication of a catalogue.
The gallery is also present in the major prestigious fairs taking place in New York and Florida.
France
Paris

England
London

Italy
Milan

Germany
Berlin

Netherlands
Amsterdam