Art Galleries
Explore the wonderful art galleries of the world, the arts community, events, artists that shape our modern preception of art and more.
Alain Cartier
Alain Cartier trades in jewelry and collectors' items such as the accessories and timepieces made by the French jewellers from 1900 to 1960. The time periods include the Edwardian, or Belle Epoque (1895-1915), the Art Deco (1915-1939), and the ...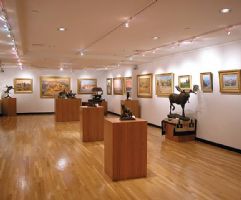 Oils, bronzes and watercolors by Masters of the American West, the Taos Society of Artists, and important works of art by 19th and 20th century American sporting artists.
30 West 57th Street
New York, New York 10019 USA
Tel:
(212) 245-8890
Fax:
(212) 541-4860
Mon.-Fri. 10am-5pm
& by appointment
Raquel Paiewonsky
| | | |
| --- | --- | --- |
| | | Awards |

| | | |
| --- | --- | --- |
| | | Premio por instalación XXII Bienal Nacional de Artes Visuales, 2003 |

| | | |
| --- | --- | --- |
| | | Premio por instalación XX Bienal Nacional de Artes Visuales. Parsons School of Design, 1990, 1991 - 1993 |

| | | |
| --- | --- | --- |
| | | Bluhdorn Award 1991 - 1993 |

| | | |
| --- | --- | --- |
| | | Permanent Collection |

| | | |
| --- | --- | --- |
| | | Museo de Arte Dominicano, Puerto Plata, República Dominicana |

| | | |
| --- | --- | --- |
| | | Fragments of Illusions - Peter Madero Gallery, Nueva York |

| | | |
| --- | --- | --- |
| | | Soul in C Minor, Bienal de soho - 450 Broadway, SoHo, Nueva York |

| | | |
| --- | --- | --- |
| | | Imaginary Beings - Performance Grupal, Exit Art, Nueva York |